Remote desktop merupakan aplikasi bawaan windows yang kita bisa gunakan untuk
remote komputer, dengan remote desktop ini kita bisa mengendalikan komputer target
100%, mulai dengan membuka semua aplikasi yang ada di komputer target sampai shutdown
juga bisa kita lakukan. Jika kita ingin menggunakan remote desktop ini
tidak langsung begitu saja, kita harus minta ijin terlebih dahulu kekomputer yang hendak kita ingin
kendalikan. Di kampus saya sering menggunakan remote desktop ini untuk akses internet ganda dari dua atau lebih komputer, kebetulan
karna di lab ada yang menggunakan jalur lan dan wirless dengan speed yang berbeda.

Berikut adalah langkah menggunakan remote desktop pada windows.
1. Buka start menu + all program + Accessories + communications +remote desktop connections
2. Setelah jendela remote dekstop terbuaka masukkan ip addres komputer yang hendak diremoteakan terlihat seperti gambar dibawah.





3. kemudian klik connect maka komputer yang anda remote 100% under your control.

Yang perlu anda perhatikan pada komputer yang hendak anda remote adalah komputer target harus disetting dulu agar akses remote bisa dilakukan.
Klik kanan pada my Computer lalu pilih properties + remote trus kasi centang pada pilihan
Allow user to connect remotly to this computer, akan terlihat seperti gambar dibawah.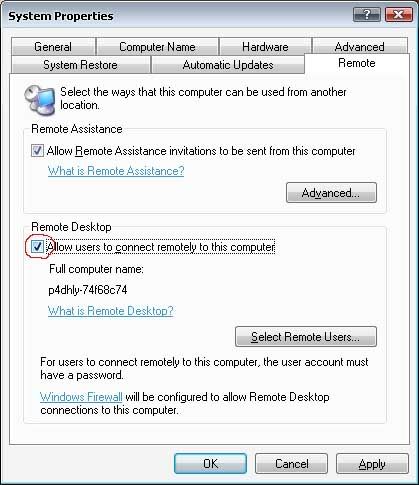 YUp semoga artikel sederhana ini bisa juga berguna bagi orang lain.